SPRING is here (in my neck of the woods), and it's time to get the garden ready!  I am on year four of my desert garden adventure, and things just keep getting better!  Now that I have learned (through trial and error) what grows well in the desert, I'm ready to focus on what plants help each other in the garden.  Want to learn, too?  I thought you might!
Instead of just randomly placing my plants in the garden (which I have done in the past), I decided to find out which plants should and should not go together.  I found a fantastic resource at WestCoastSeeds.com.  I've linked you to a document about companion planting.
I had a really hard time keeping track of the twenty-four different plants I want to include in my garden.  To keep it all straight, I created this companion planting chart and planned my square foot garden boxes based the chart.  I hope it helps you decide what to plant as well.
It's pretty simple:  Green means GO, and red means STOP!  If the chart says green, the plants work well together.  If the chart says red, the plants don't work well together.  Easy peasy!  (Now's the time where my dad pipes in and explains that charts can't really talk.  Thanks, Dad.)
I also found great info about plants that repel garden bugs.  I created a chart for that, too!
You can download both charts here.  (It's a single page printable.)
Planning the Garden–What to Plant Together
(Thanks Sue L. for letting me know about a couple of errors on the chart.  They have been fixed as of 4/16/12.)
If the plant you are looking for is not listed, check out the website above.  I did not include all of the plants listed on the website.
Interested in more garden posts?  I have more coming.  In the meantime, check these out:
DIY Watering Can from Milk Jug
Gardening for Dummies (and I'm the Dummy)  Silly but Important Tips for the Beginning Gardener
DIY Garden Trellis
This post was featured here: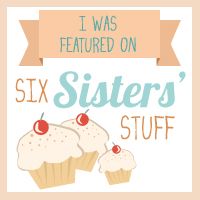 Thanks for stopping by!
Click here to see the places where I have been known to link up my projects and recipes.